Rally for Irish Unity, Newtown Butler, Co. Fermanagh, 24 October 2021
A chairde Gael,
Bailíonn muid anseo ar bhruach na hainnise a dtugtar an teorainn air. An chríochdheighilt sheicteach ghránna is cúis le hár is uafás in Éirinn le céad bliain anuas. Tá muid bailithe anseo in Achadh na Gé inniu ní hamháin ar mhaithe le heirí amach in éadan na héagóra ach ar son athbhunú na Poblachta a bunaíodh i 1916.
Comrades, in a week when British imperialism sees fit to celebrate a hundred years of unabashed sectarianism, torture, murder and oppression and the creation of a hate state that is so-called Northern Ireland through the denial of democracy by military might, we stand here today to reassert our right, the right of the sovereign people of Ireland to independence and the freedom to determine and shape our own future free of threat or intimidation.
We know that the hideous distortion of human progress that is the Six Counties is just one in a litany of tactical manoeuvres by the British ruling class in the history of the conquest of Ireland, the ultimate goal of which is, of course, the extraction of the wealth and resources of Ireland through the enslavement of the Irish working class.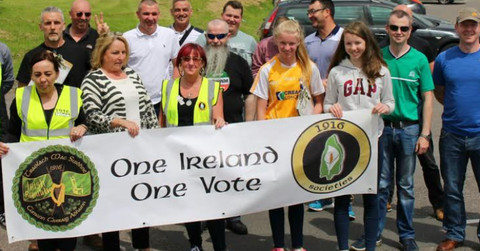 In 1921 British imperialism, in the face of republican resistance and no longer able to hold Ireland, created the reactionary alliance that has left Ireland with a sectarian state in the north and an equally right-wing state in the south, both dominated by the middle class and amenable to British interests.
They did this, of course, in order to thwart the Republican promise of a republic where the resources of Ireland would be controlled by and would belong to all the people of Ireland. They did this in order to thwart the establishment of a republic where all the citizens of that republic would be cherished equally and where the working class would be delivered from the subjugation of capitalism.
Today, comrades, a hundred years on, British imperialism is joined by the European Union in thwarting the hopes and dreams of Irish workers. European imperialism is no less unequal or oppressive than that of Britain in determining the limits to human progress and freedom. The European Union dictates that the interests of big money and corporations outweigh and trump those of workers, to the point where public investment in even the basic needs of housing and health are subordinate to those of profit and big business.
Furthermore, I need not remind you that until recently Europe was a key guarantor in supporting Britain's right to remain in Ireland.
Recently the competing and selfish interests of Europe and Britain have led to Brexit, with both sides using Ireland as a pawn in rehearsing their competing interests. Today the European Union is vying with British imperialism for dominance in Ireland, not in the hope of delivering a republic of equals but of maintaining the abysmal status quo, where a working family cannot afford a home.
Yet Brexit has created an unprecedented time of flux and opened up many contradictions, leaving British imperialism in crisis yet again.
In this crisis, many myths are being rehearsed. There are those who will tell you that a united Ireland is inevitable, and that this will be delivered through a border poll and demographic change.
Comrades, it is not clear that this is the case. Any decision on holding a border poll remains absolutely with the British secretary of state, and any decision to act on the outcome of any such internal poll again remains the sole power of Britain.
As history tells us, when British imperialism faces crisis it reaches for further distortions of democracy; and it is therefore as likely that Britain will continue to deny any plebiscite that might reduce its control of Ireland. Similarly, the gombeen politicians of the Free State, and those who have lately joined their ranks in the North, will tell you that the European Union's ambition of economic control of Ireland is tantamount to support for independence. Of course this is not true.
It is as likely that when Europe decides to settle with Britain and sees no further use for Ireland as a bargaining-chip in its battle for economic dominance it will support Britain in the creation of a new distortion as readily as it has previously supported the acceptance of the failed northern state. The prospect of sectarian federalism or unity within the Commonwealth looms on the Irish political horizon.
Comrades, we as republicans and socialists must be clear, at this time, in being determined and expressing our ambitions and demands and in defining the debate around the future of Ireland. A mere union of two failed states, or any new form of home rule under the control of an imperial power, as hoped for by the gombeen-nationalist, will not achieve the Republic. As Connolly so accurately predicted over a hundred years ago, "if you remove the English army to-morrow and hoist the green flag over Dublin Castle, unless you set about the organisation of the Socialist Republic your efforts would be in vain. England would still rule you. She would rule you through her capitalists, through her landlords, through her financiers, through the whole array of commercial and individualist institutions she has planted in this country and watered with the tears of our mothers and the blood of our martyrs."
The hoisting of the European flag over Stormont will be no more successful.
As republicans and socialists, let us be clear here today: our aim and demand is for national liberation. Our determined aim is the establishment of a workers' republic, and nothing less. Let us reject the notion that the enslavement of the working class for the benefit of the rich and powerful is inevitable and reassert our demand for an Ireland free of oppression—civil, economic, or political.
Comrades, let us redouble our efforts to set out a vision for Ireland in the twenty-first century, a vision for a new Democratic Programme, for a socialist republic.