Part 1
In this first part of a two-part report, Gearóid Ó Machail, member of the CPI National Political Committee, who travelled to China accompanied by the CPI general secretary, Jimmy Corcoran, provides an account of the delegation's time spent in China and makes some observations based on his experience there.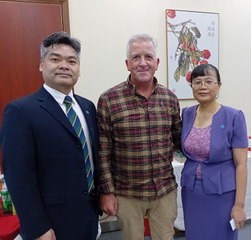 The Communist Party of Ireland recently accepted an invitation from the International Department of the Communist Party of China to attend the 3rd Communist Party Leaders' Delegation of North American, Oceanian and Nordic Countries at three venues in Guangdong Province, Guizhou Province, and Beijing City.
The CPI representatives were joined by delegates from the Communist Parties of Britain, Finland, Sweden, Norway, the United States, Canada (including the Parti Communiste du Québec), Denmark, and Australia, as well as representatives from the Communist Party of Great Britain (Marxist-Leninist), the New Communist Party of Britain, and the London-based Friends of Socialist China.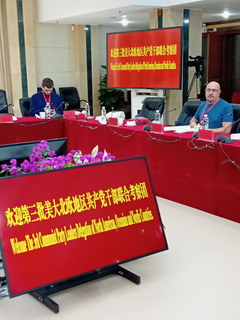 The purpose of the ten-day visit was to develop our understanding of China's path to modernisation, the "socialist market economy," and the nature and trajectory of "socialism with Chinese characteristics." The well-organised itinerary included meetings with academics, visits to communities and enterprises, multi-cultural events, and discussions with the International Department of the Communist Party of China, the Communist Youth League of China, the All-China Federation of Trade Unions, and the Party School of the CPC Central Committee.
The delegation was welcomed upon arrival at Guangzhou Airport by International Department officials and embarked on a busy schedule of activities, beginning with a visit on day 2 to Guangdong Local Chronicles Museum and Guangdong Academy of Social Science. President Wang Tinghui and Professor Deng Zhiping of the academy provided a comprehensive presentation on the "economic and technological miracle" experienced by Guangdong Province since the initiation of the "opening up" reforms in 1978. They presented an overview of China's approach to modernisation, characterised by common prosperity for all, harmony between humanity and nature, material and cultural-ethical advancement, and peaceful international development and co-operation.
The aforementioned themes were prevalent throughout our visit, and the Chinese officials and party representatives that we met were at pains to juxtapose China's peaceful path to development and modernisation with that of the imperialist west. It was stressed that China had no interest in war or imperialist rivalry but preferred to seek peaceful co-operation and interaction with developing and developed countries in order to promote and to plan for "common prosperity" around the globe.
The deployment of outside foreign capital and investment to build up the productive capacity of the local economy in Guangdong and in other "Special Economic Zones" under the supervision of the CPC was explained in terms of the need to bring Chinese living standards into line with neighbouring countries in South-East Asia. Capital and outside investment is being welcomed as a tool for developing "common prosperity," and there is no potential for capitalist interests to organise politically or gain influence within the media or education sectors. The explosion of financial wealth generated by the "socialist market economy" is being socially invested to the benefit of the entire population of the "South Gate of China" and is also being invested in neighbouring regions to improve general living standards throughout south-east China.
Professor Deng emphasised that "the colour of our further modernisation is green." Economic activity in the province is increasingly oriented towards renewable energy and electric vehicles, and major efforts are under way to improve public transport and protect biodiversity. In response to questioning from the delegation, the professor stressed that there are moves to improve general living standards for workers throughout the region, including migrant workers, and to address the wealth and services gaps between urban and rural areas.
Delegates later visited a leading medical diagnostic firm, King Med Diagnosis. Founded in 2003 in Guangzhou, King Med Diagnostics is a third-party medical laboratory group, engaging in four major businesses, including medical testing, clinical trials, food and hygiene testing and scientific research service in 31 cities, providing medical test outsourcing services for over 16,000 medical institutions in 27 provinces. The CPC has direct representation on the company's board of directors, and delegates met CPC officials within the company, who informed us that there are over 1,300 CPC comrades organised within the 14,000 work force. We saw evidence of party organisation within the building, with many employees flying the hammer and sickle from their desks and wearing party badges. Party members have their own space for meetings and gatherings within the work-place.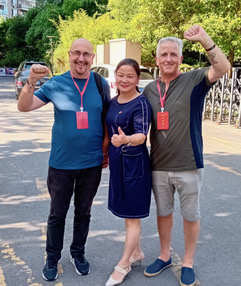 A further visit was arranged to the state-owned Guangzhou Automobile Group (GAC Motors). The impressive company was ranked 189th among the world's top 500 enterprises in 2019. Adhering to the enterprise concept of "Humanity, Credibility, Creativity," GAC had manufactured 18.3 million cars and 16.8 million motorcycles by 2020. In 2022 GAC's production and sales both exceeded 2.4 million vehicles.
Walking around Guangzhou, a megacity of 18 million residents, delegates were struck by the fact that there are no slums and there is no homelessness. Trees line every road, and there are ample parks and green spaces, along with huge numbers of low-cost apartment blocks. In that sense, China's cities stand in stark contrast to the megacities elsewhere in the developing world, which are so often characterised by intense poverty, squalor, and homelessness.
During their visit to Guangdong province, international Communist Party delegates also met and questioned Comrade Wang Ruijun, member of the Standing Committee of the CPC Guangdong Committee, accompanied by party officials from the Guangdong Foreign Affairs Office, the Communist Youth League Guangdong Community, and Guangdong Academy of Social Sciences.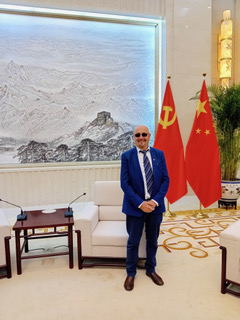 Delegates were transferred by air to the Communist Party of China Guizhou Provincial Party School, where they were to be based for the following three days. The school is a specialist and well-equipped training academy for emerging talent and cadres within the CPC. The school was founded in 1950 and provides education on Marxist theory, leadership skills, organisational skills, and community-building. The college facilities are extensive and impressive: it can currently accommodate up to 2,000 students at any given time.
To round off our first day in Guizhou, the international delegation of communists experienced a spectacular and rich cultural performance at Guiyang Theatre and were invited onto the stage to meet a performing cast from many of Guizhou province's ethnic minority communities. The International Department was keen to counter "western" propaganda concerning China's supposed intolerance for ethnic and cultural diversity. The packed theatre comprised mainly family groups, who evidently were relishing the diverse performances of song, dance, drama and cabaret acts from the various ethnic regions of Guizhou province.
■ In part 2 of his report in the next issue of Socialist Voice, Gearóid Ó Machail will outline details of the international delegation's visit to Jinyuan, Zunyi, Qingyan, and Beijing.