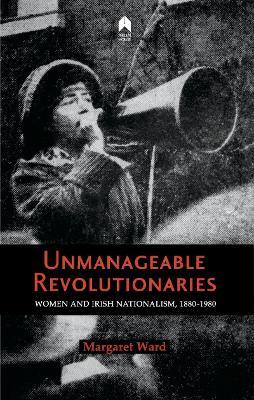 Margaret Ward's ground-breaking book on revolutionary women in Ireland, Unmanageable Revolutionaries: Women and Irish Nationalism, 1880–1980 (1983), was republished in an updated, revised and richly illustrated new edition by Arlen House in late 2021.
It is a superb introduction to some of the great women in Irish history since Anna Parnell and an excellent detailed biography of women's movements in Ireland. It provides readers with well-informed portraits of Anna Parnell, Constance Markievicz, Maude Gonne, Hanna Sheehy Skeffington, and others. It gives a detailed historical context for the work of the Ladies' Land League, Inghinidhe na Éireann, and Cumann na mBan, and it furnishes readers with, among many further things, the significant and later airbrushed participation of women during the Easter Rising.
Ward sheds light on women's participation in the First and Second Dáil and emphasises their political stance in that body. Interestingly, for example, all six women in the Second Dáil opposed the Anglo-Irish Treaty, as did Cumann na mBan. Muriel MacSwiney, Linda Kearns and Kathleen Barry stayed on the front lines in the Battle of Dublin after all other women combatants were sent home.
Ward points out that only Constance Markievicz, as minister for labour, along with Liam Mellows, spoke for working-class interest. Connolly's words in the 1916 Proclamation that an Irish Republic would guarantee "equal rights and equal opportunities to all its citizens" was important to the women in struggle and was often quoted by them. In this regard it is regrettable that Connolly's and Francis Sheehy Skeffington's complete understanding of the need for women's emancipation as integral to the liberation movement is not emphasised a little more in the book.
Ward shows the Irish women's movement as being aware of international developments, especially in relation to the USSR. She points out that Constance Markievicz was "the second woman in the world to enter government, following Alexandra Kollontai in the Soviet Union." She also states that "De Valera was once again elected President of the Irish Republic and Countess Markievicz reappointed Minister for Labour, but this time her position did not carry cabinet status. Both she and the labour movement were effectively demoted." She also describes the progressive betrayal of women in the Irish constitutions; and readers will not grow fonder of Éamon de Valera in this regard.
Although the main emphasis of the book is on the more famous women, Ward has done a magnificent job in reclaiming the names of the lesser-known, indeed unknown, activists, such as Eithne Coyle, or Mary Colum. The author addresses this difficulty in her introduction, "Unmanageable Revolutionaries Revisited," where she describes how more recently available archives, sources and indeed the internet have opened up new possibilities for research, such as the opening of the Bureau of Military History archives in 2003, access to information relating to applications made for military pensions (1,619 made by women) and for service medals (4,612 made by women). These figures alone demonstrate the significant number of women involved in the struggle for Irish freedom.
Research into these women has fallen to more recent historians, especially now that working-class history is beginning to become an acceptable field of exploration in universities. In this regard it would also be of interest to know if any research has been done into the Gaeltacht women's involvement in the struggle. These women have been even more marginalised in mainstream history than their English-speaking counterparts.
On the other hand, the left-wing political group Saor Éire, open to both genders, is given attention in this book and put into a class context: "Sighle Humphreys was elected joint treasurer while the other women on the executive consisted of Helena Moloney, Sheila Dowling (who had been in jail during the Civil War and was now a member of Friends of Soviet Russia and organiser for the Irish Women Workers' Union) and May Laverty of Belfast, a Cumann na mBan organiser." Ward goes on to quote Humphreys, and to give an insight into the limitations of Cumann na mBan:
I used to feel that a lot of our activities were leading nowhere and the first time I felt that we could have some impact on the ordinary people and show them what freedom really meant was when I joined Saor Eire. We were, at last, doing something worthwhile . . . Cumann na mBan . . . did not formally endorse the actions of those who joined. To have done so would have precipitated a disastrous internal crisis as many completely disapproved of this "socialistic trend."

Speaking at a Sinn Fein meeting in Dublin, Mary MacSwiney forcefully declared her opposition to the organisation because it "sought to divide the people of Ireland on a class basis." Old-style nationalists could countenance any number of divisions over Republican principles, but they regarded with abhorrence the "artificial" division between economic classes.
Women in the labour movement do not feature in this book, which concentrates, as the title suggests, on women and nationalism in a narrow sense. This means that Betty Sinclair receives only a passing comment; Edwina Stewart and Madge Davison, prominent leaders of the civil rights movement, are not mentioned at all. Omissions such as these are regrettable, as this book would have been well positioned to expand on the fact that nationalism, as indeed the term republican, surely must embrace all striving for anti-colonial and later anti-imperialist liberation in Ireland, including socialist and communist movements.
Margaret Ward has done much to retrieve Herstory from the claws of History, a truly important achievement. The book has lost nothing of its interest and has now become accessible for a new generation. There is still much research to be done before we can truly say that Ourstory, from the viewpoint of class, of women and of men with insight into the need for all-encompassing emancipation, such as Connolly and Francis Sheehy Skeffington, can be written.