The second United Bodenstown Commemoration to honour Theobald Wolfe Tone and the United Irish movement, organised by the Peadar O'Donnell Socialist Republican Forum, took place on 19 August.
Activists came from all over the country—from Dublin, Belfast, Newry, Fermanagh, Tyrone, Cavan, Monaghan, Armagh, Wicklow, and Waterford. A delegation from Scotland also travelled to Ireland to take part.
The ceremony in the graveyard was chaired by Caoimhe Ní Loingsigh. The first speaker was the forum's chairperson, Tommy McKearney. He stated that those gathered at the commemoration needed to keep in mind and remain focused on the establishment of a sovereign independent state, and that a "workers' republic" was our ultimate goal.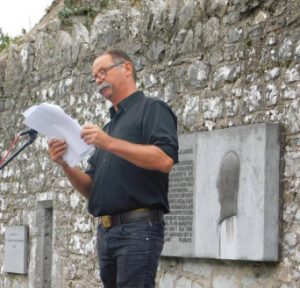 The main oration was given by Jimmy Doran, a member of the Forum and of the CPI and an active trade unionist in Connect. He stated: "Pádraig Pearse once referred to this place as the holiest spot in Ireland. I'm not an expert on holy spots, but it certainly is one of the most revolutionary spots in Ireland. It is the burial ground of Theobald Wolfe Tone, one of the greatest Irish revolutionaries and the founder of Irish republicanism.
"We are here today to remember him, to learn from him, and use this knowledge not to repeat history but to change it."
Addressing the growing inequality within our society, he stated: "Wherever there is a massive accumulation of wealth there is an equivalent poverty and disfranchisement of somebody else. Huge amounts of wealth cannot be accumulated without depriving others. Wealth doesn't just appear: it does not just happen or fall from the sky . . .
"All wealth is created by the interactions of two things: the natural resources of this planet and our labour. Nobody should own those natural resources: they are provided by nature, to be used for the benefit of humanity, not for any elite to hoard or exploit for themselves. Without these two components, wealth just does not exist, and there would be nothing to accumulate, horde, stash, rob, deprive or steal from the rest of us.
"British imperialism was in Ireland and the other colonies not as tourists but to extract everything they could out of countries and peoples, to benefit their elite ruling class and quell revolt from their own citizens in Britain. It is no accident that the British built schools, hospitals, cities and towns for their citizens but built railways, roads and ports in the colonies, to flood home the wealth, riches and resources from the colonies while leaving the colonial citizens to starve in abject poverty.
"We need to stand firm on our anti-imperialist political understanding and deepen it . . . Imperialism is rotten to its core. Inequality is its foundation stone, and greed is its bedrock. It achieves this by exploitation of the working class."
Flowers were laid by organisations and individuals on Wolfe Tone's grave, and the Proclamation of the Irish Republican Brotherhood of 1867 was read.
Building the forces for the unity of our people and our country is more necessary than ever. This united commemoration was an opportunity to renew our commitment to the struggle for an independent, sovereign people in a sovereign country.