Paddy Power workers awarded €750-€1,000 each for denial of rest breaks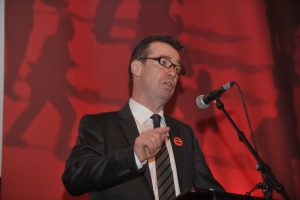 Fourteen Mandate  members employed by Paddy Power Betfair Plc have been awarded between €750 and €1000 each by the Workplace Relations Commission (WRC) for the denial of rest breaks.
The workers, through their Union, successfully took the cases under the Organisation of Working Time Act, 1997.
Mandate say the WRC adjudication officer found the company to be in breach of the Act and urged more Paddy Power workers to come forward to prosecute claims where merited.
Mandate has written to the company seeking a meeting to discuss the implications of the WRC's decision.
John Douglas, Mandate General Secretary, said: "These decisions vindicate our members in their claims and I congratulate them on their successful cases. There are tens of thousands of workers in Ireland currently being denied their rights at work because their employer believes the law shouldn't apply to them. We're here to tell them that it does." Mr Douglas warned Paddy Power workers of requests from management to "single-man" shops.
"Workers should not put themselves at risk by working alone for prolonged periods and should take precautions at all times, including shutting the store if necessary. Paddy Power is a highly profitable business and can afford to sufficiently staff their premises so that workers are safe and can avail of their legal right to rest periods."
Mandate intends to serve a comprehensive claim on Paddy Power Betfair regarding pay scales, step up duty pay and premium payments, among other issues in the coming days.
Since the decisions, the company have now notified all staff of rest break entitlements as follows:
A 15 minute break when you have worked for 4 ½ hours.
If you work more than 6 hours you are entitled to 30 minute break, which can include the first 15-minute break.
If you work more than 6 hours and the hours of work include the period 11.30am–2.30pm you are entitled to a one-hour consecutive break which must occur between 11.30am–2.30pm.
SIPTU confirm Section 39 workers strike action after pay talks collapse
Talks to avert strike action across Section 39 organisations have collapsed following negotiations in the Workplace Relations Commission.
SIPTU Health Division Organiser, Paul Bell, said: "Our members deferred strike action in February in good faith following an agreement between the parties that pay restoration would begin by the end of 2018. This has not happened and our members patience has worn thin."
After months of intense campaigning our members feel that what is being offered is too little, too late and will be striking on Tuesday 18th September. Our members will do everything possible to protect service users throughout the periods of strike."
Unfortunately, the Department of Health and Health Service Executive (HSE) refused to sanction a confidence building payment of the €1.5 million required to pay our members 1% of pay restoration in October 2018."
"It is deeply regrettable that the departments took the decision to face down our members instead of doing the decent thing and paying them what they are owed."
Unions & SIPTU warn contractors on Blacklisting
Trade unions Unite and Siptu have issued a joint statement condemning the practice of blacklisting in the construction sector and warning those who engage in what the unions term this "obnoxious behaviour" that they will face a united action against them. The practice is especially widespread in the construction sector, both in Ireland and internationally.
Commenting, Unite Regional Officer for Construction Tom Fitzgerald said: "Blacklisting is especially prevalent in the context of disputes, such as the recent crane operators' dispute between Unite and members of the CIF, and involves employers exchanging information to prevent known union activists being employed in the sector.
"When employers join together to victimise workers, unions must join together to defend them – and that is precisely what both unions are doing in the face of the current scourge of blacklisting.
"In the words of the statement issued to all major construction companies, contractors and agencies by the two unions' General Secretaries:  'We are putting on notice any employer who we believe to be engaged in this obnoxious behaviour will face a united action against them'
IAC admits to poverty pay as Unite archaeologists continue to #Dig4Decency
Experienced archaeologists paid just €12.50 per hour to defend our heritage
Trade union Unite, which is currently engaged in a dispute with the Irish Archaeological Consultancy over the company's refusal to engage with the union on a pay claim, said today that the company had admitted to a history of paying poverty wages.  The union was commenting on IAC's claim that it had increased wages by 65% over the past four years – effectively stating that in 2014 it was paying archaeologists below the Minimum Wage.
Commenting, Unite Regional Coordinating Officer Richie Browne said: "Since this dispute started, IAC has been issuing statements to the effect that they have increased wages by 65% over the past four years.  Given that our members' contracts stipulate an hourly wage of €12.50 – just slightly above the 2018 Living Wage rate – this means that the company is claiming to have paid archaeologists around €7.60 at the start of that period.  This would have been below the National Minimum Wage of €8.65 applicable at the time, and would have meant that IAC was breaking the law and subject to a referral to the National Employment Rights Agency or its successor, the WRC.
"In fact, our records show that members were paid the €9.50 per hour – which means that, according to IAC's own statement, had they increased wages by 65%, they should now be paying approximately €15.67 per hour.  Yet experienced archaeologists are only being paid €12.50 per hour to defend our heritage – and to help swell IAC's healthy revenue.
Lloyds Pharmacy Head Office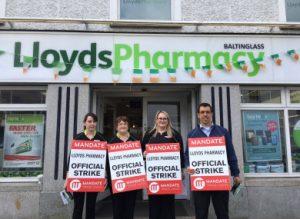 At the end of July the Lloyds Pharmacy stage a demonstration outside the companies head offices to reassert their demands:
The right to trade union representation.
The end of zero hour contracts
A decent sick pay scheme
A fair days pay for a fair days work
On the 25th July Lloyds parent company, McKesson Corporation, announced that they had achieved revenues in excess of $52 BILLION for the first quarter of the year. That's $52,000,000,000.00 in 3 months. And yet their Irish workers have to put up with pay of €10.60 per hour after 12-15 years of service. Management say the company is not profitable, yet unsurprisingly, they refuse to open their accounts to the workers' representatives. Maybe if the CEO wasn't earning €14 million per year, they could afford to pay their staff a decent wage though?
The company are in the media pretending to care about patients? These are the same management who took away their own workers' sick pay scheme a few years ago. Forcing their workers to come to work with illnesses such as swine flu, bronchitis and pneumonia because they cannot afford to take the time off.  Not one patient who has been in vital need of medication during these strikes has been turned away.
The resolve of so many workers remains unbroken. We will end with one simple call to every Lloyds Pharmacy worker, whether you are full time, part time, a pharmacist, a technician, a driver, OTC or any other grade. We are fighting for you, join us. We want better terms and conditions for everyone and this company can easily afford them. But the old saying still rings true… "the longer the picket line, the shorter the strike."